No no no, you silly bastard, I'm not picking up after myself. Good stuff though. Compelling...and...
rich
.
No, but rather I am adding two new sites to my blogroll. Well, one new, one old returner.
The new one is by my good friend John "Jack" Johnson, who just started his "
Cold-Draft
" blog. I know it's early, but my boy is already thinking about the NFL draft. Yeah, I know, it's amazing. He's just starting it out, but come April, you better bring your bib... cuz it's gonna get messy! (Johnny is expecting his second child soon, so congrats to Johnny.)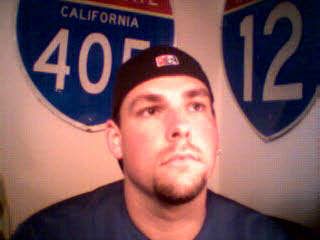 Mike C.
The old one is from my former friend Mike "Don" Cialini. (His middle name is not really Don, it's Jerome.) Jerome, errrr, Mike was on my blogroll about a year ago, and then he went ahead and didn't touch a computer for 13 months, so I removed him posthaste. But the son of a bitch is back, cranking out 2 1/2 posts in the last 10 days. That warrants a probationary return to the blogroll.
He's changed the name from "I Plead the Fifth" to "
Leave the Gun. Take the Cannoli
," which is, of course, from Mike's favorite movie
To Wong Foo, Thanks for Everything, Julie Newmar
. If he doesn't keep it up, he's going back to the realm of the unknown. It's up to you, Michael. Mike just got hitched so I'll allow a little leeway on him too.
Other than their conservative points of view, there is little that relates these two gentlemen, but I figure it's only fair to give the tens of millions that peruse my little scribblin' pad fair notice. Enjoy kids!
-------------
After I finished this I nearly slapped my own forehead off with a mighty "schwack" having forgotten about my boy Electric City Paul, who's blog,
Electric City Paul
, is a whimsical mix of popular culture, baseball and Scott Stapp. I think you'll really enjoy it.